No matter our challenges, let's find lots to be thankful for this Thanksgiving. Here at Main Street Reads we're gearing up for another big week, with book signings, book club, a day off for Thanksgiving, and then a huge Black Friday/Small Business Saturday weekend! Also, mark your calendars for Tuesday, December 1st the following week when Hutchinson Square will be lit up and several shops, including ours, will be featuring live window displays.
We wish each of you a healthy, safe and Happy Thanksgiving. See you soon on Main Street… and don't forget to ask for your free brownie with every purchase! Learn more about specials and events below: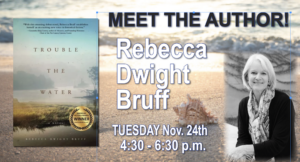 November 24 @ 4:30 pm – 6:30 pm
Main Street Reads, 115 S. Main St.
Join us between 4:30 and 6:30 p.m. Tuesday, November 24th when Rebecca Dwight Bruff will be signing American Fiction award-winning Trouble the Water. Stick around for a discussion of the book afterwards as the featured Pulpwood Queen book club read this month! Deeply moving and a riveting read, TROUBLE THE WATER reveals the little-known real-life story of Robert Smalls. Born enslaved before the Civil War, Smalls witnesses great privilege and immense suffering alongside his owner's daughter and the dangerous son of a firebrand secessionist.…Find out more »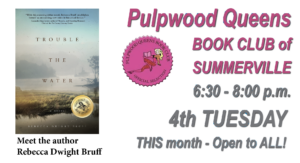 November 24 @ 6:30 pm – 8:00 pm
Main Street Reads, 115 S. Main St.
Join us live or via Zoom for an engaging discussion about the historical fiction hit Trouble the Water Inspired by the life of an unsung American hero and slave, Trouble the Water navigates the rich tributaries of courage, betrayal, and redemption. Find out more »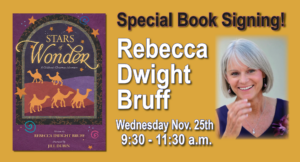 November 25 @ 9:30 am – 11:30 am
Main Street Reads, 115 S. Main St.
Join us Wednesday morning, 9:30 – 11:30 a.m. when Rebecca Dwight Bruff joins us for storytime and a booksigning following for her new highly praised children's book: Stars of Wonder. Storyteller Colleen Rackleff will read some of the book for story time and Rebecca will be on hand for Q&A and signing afterwards (hint: makes the perfect Christmas gift!) Free fruit snacks and juice boxes for all! Find out more »
THURSDAY: Happy Thanksgiving!
We're closed on Thursday but we'll be celebrating how thankful we are for readers, books, authors, and our incredible Summerville reading community – We are so grateful for you!
Black FRIDAY & Small Business SATURDAY!
DISCOUNTS storewide, free brownies with purchase, free gift-wrapping, refreshments and more! Come kick off the holiday-gift-giving season with us and warm up your weekend with plenty of community book joy.
December 2020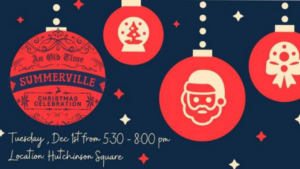 December 1 @ 5:30 pm – 8:00 pm
Join us for the 2020 Old Time Summerville Christmas Celebration event on Tuesday, December 1 from 5:30 – 8 p.m. This event will be a modified version of the Town's traditional tree lighting ceremony. We'll have treats at Main Street Reads of course, as will many of our neighbors: In an effort to provide a safe event that does not promote gathering the town will forego the ceremony and countdown of the tree lighting. This year the tree will be…Find out more »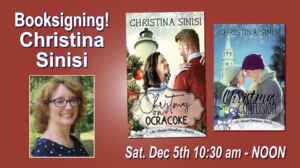 December 5 @ 10:30 am – 12:00 pm
Main Street Reads, 115 S. Main St.
Join us on December 5th as we kick off a big holiday month with Christina Sinisi's Christmas on Ocracoke. You may remember Christina signing with us last year for her first novel, Christmas Confusion! Both will be available to be signed… a perfect Christmas gift! Reeling from the upheaval of a failed marriage, Annie Hanahan is desperate for a new start—and when she inherits a cottage on Ocracoke Island, she may finally get it. Without a second thought, she packs…Find out more »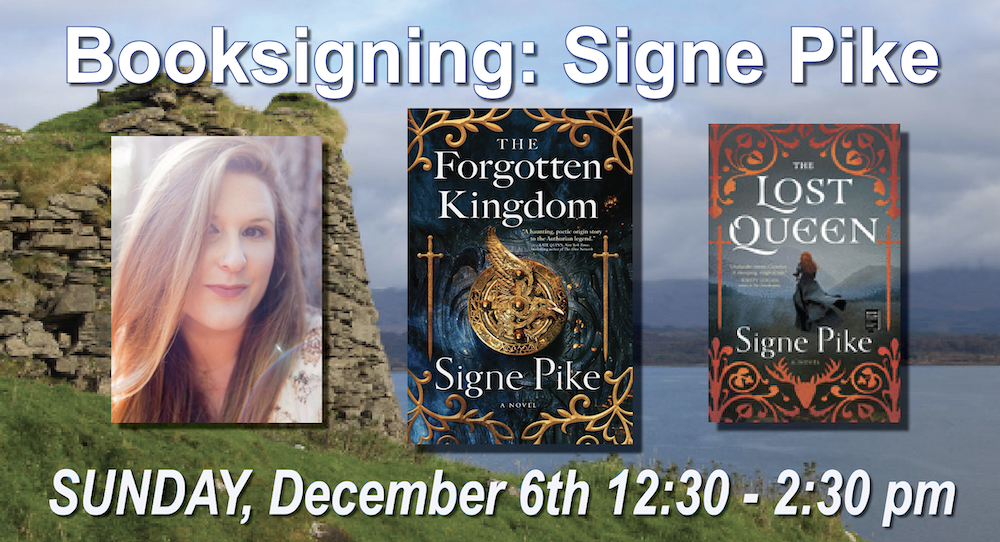 December 6 @ 12:30 pm – 2:30 pm
Main Street Reads, 115 S. Main St.
We super excited to have the amazing Signe Pike grace Main Street Reads on Sunday, December 6th for a special event and book signing. Her best-selling books have been making waves. The Forgotten Kingdom is the second in a trilogy; we'll also have the first in the trilogy, The Lost Queen, on hand to be personally signed. Refreshments will be served, including a special brew of spiced cider to set the mood. Let us know if you plan to attend…Find out more »
Thanks Small Business Majority!
A thank you to the Small Business Majority for including us in their national guide this year: CLICK HERE! Small Business Majority is a national small business organization that empowers America's diverse entrepreneurs to build a thriving and inclusive economy. More than 450 small businesses offering products and services for everyone on your gift list are included. Browse them for inspiration or use the sorting option to find something specific.
If you purchase an item through us or another small business on the list, take a photo and post it on social media using #IShoppedSmallBiz to encourage others to do the same!
This Month's Featured Reads: Click on a Book to Learn More!
You can also view the full list of favorite November picks at our online shop HERE. Enjoy browsing online, or call 843-875-5171 to pick up your choices at the store. Our holiday faves will be featured in the next newsletter, Sunday, November 29th – stay tuned!