It's been a crazy week at Main Street Reads as loads of new books have been landing on us each day. Hundreds of new titles and hundreds more on the way. We're super excited that our selection is bigger and better than ever, thanks to a LOT of early planning, anticipating that it's going to get tougher and tougher to grab the best books once the holiday shipping rush sets in next week.
Which also means, if there's a title on your holiday wishlist – TELL US! The sooner we know the sooner we can make sure it's in stock for you (we can even set it aside so it's waiting when you arrive). If you're looking for ideas, stop in; we have some incredible new fiction from sci-fi to historical, literary to thriller. Also available are tons of new kid's titles, and some spectacular non-fiction in cooking, motivational, history, true crime and more. We've also beefed up our poetry section and several available titles personally signed by authors.
Top picks by readers over the past week: A Promised Land (by Barack Obama), Porch Rocker Recollections (beautiful book of Summerville history); Different (signed copies from Chris Singleton); Temple of Eternity by Scott Boyer (fantasy adventure with signed bookplates); Caste by Isabel Wilkerson (Oprah pic, brilliant non-fiction work); Harry Potter and the Sorcerer's Stone new MinaLima edition (with free art print while supplies last); and JK Rowling's, The Ickabog.
And now, a look at ways you can connect with fellow readers, authors, and great books coming up!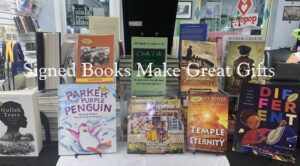 November 19 @ 5:30 pm – 7:30 pm
Main Street Reads, 115 S. Main St.
Enjoy partying out on the square, sales and treats at Main Street Reads, and singer/ songwriter/guitarist Mike Kaltofen keeping it all festive as we enjoy our downtown community and have a little pre-Thanksgiving merriment. Hint: It'll be the perfect time to get a jump on holiday shopping, maybe grab a signed book from our special selection… See you on Main Street!Find out more »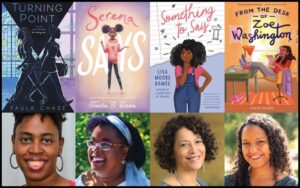 November 19 @ 7:00 pm – 8:00 pm
Email us for a link to join this very special event featuring the following books and authors: Turning Point by Paula Chase Distance threatens to tear apart a friendship. That is, of course, if a secret doesn't ruin it first. Told in dual perspectives, this provocative and timely stand-alone companion to Paula Chase's So Done and Dough Boys will resonate with fans of Jason Reynolds, Rebecca Stead, and Renée Watson. Best friends Rasheeda and Monique are both good girls. For…Find out more »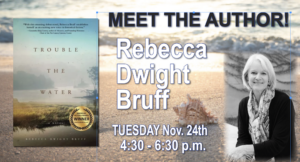 November 24 @ 4:30 pm – 6:30 pm
Main Street Reads, 115 S. Main St.
Join us between 4:30 and 6:30 p.m. Tuesday, November 24th when Rebecca Dwight Bruff will be signing American Fiction award-winning Trouble the Water. Stick around for a discussion of the book afterwards as the featured Pulpwood Queen book club read this month! Deeply moving and illuminating, TROUBLE THE WATER reveals the little-known real-life story of Robert Smalls. Born enslaved before the Civil War, Smalls witnesses great privilege and immense suffering alongside his owner's daughter and the dangerous son of a firebrand secessionist.…Find out more »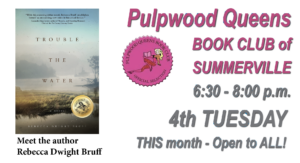 November 24 @ 6:30 pm – 8:00 pm
Main Street Reads, 115 S. Main St.
Join us live or via Zoom for an engaging discussion about the historical fiction hit Trouble the Water by Rebecca Dwight Bruff! "Before this decisive night, I'd not fully appreciated the subtle line between inspiration and insanity. But now, with all our lives at risk, I found myself navigating that most perilous edge…" Inspired by the life of an unsung American hero and slave, Trouble the Water navigates the rich tributaries of courage, betrayal, and redemption. In his inspiring journey,…Find out more »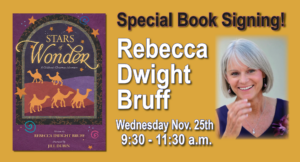 November 25 @ 9:30 am – 11:30 am
Main Street Reads, 115 S. Main St.
Join us Wednesday morning, 9:30 – 11:30 a.m. when Rebecca Dwight Bruff joins us for story time and a booksigning following for her new highly praised children's book: Stars of Wonder. Storyteller Colleen Rackleff will read the book for story time and Rebecca will be on hand for Q&A and signing afterwards (hint: makes the perfect Christmas gift!) In Stars of Wonder, five brave and curious children follow a star, and discover more than they ever imagined: strength, trust, love,…Find out more »
THURSDAY – THANKSGIVING DAY – CLOSED
We'll be closed on Turkey day, so visit us before that day so you have something to read after you fill up on turkey and fixings!
FRIDAY and SATURDAY: Black Friday and Small Business Saturday Sales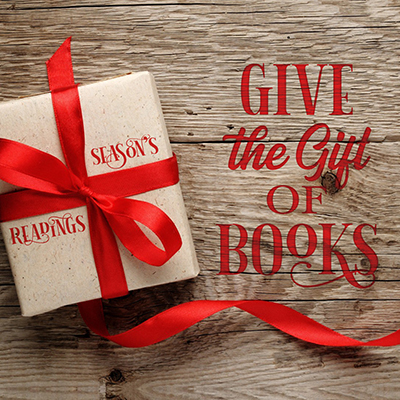 Look for plenty of 50% off titles marked with stars throughout the store! Weather permitting, we'll feature some outside as well. AND…10% off storewide or 20% off any single item ALL DAY FRIDAY AND SATURDAY. Here's your chance to check off those gift lists, shop local AND get the best deals! Oh, and did we mention free gift-wrapping?
Not sure what to get? Ask us for suggestions or grab a clever book print for under $10 and pair it with a gift card in any amount you choose!
AND COMING UP December 2020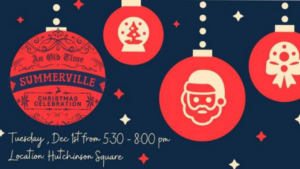 December 1 @ 5:30 pm – 8:00 pm
Join us for the 2020 Old Time Summerville Christmas Celebration event on Tuesday, December 1 from 5:30 – 8 p.m. This event will be a modified version of the Town's traditional tree lighting ceremony. We'll have treats at Main Street Reads of course, as will many of our neighbors: In an effort to provide a safe event that does not promote gathering the town will forego the ceremony and countdown of the tree lighting. This year the tree will be…Find out more »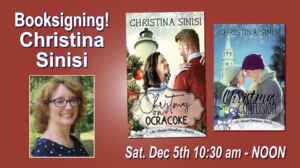 December 5 @ 10:30 am – 12:00 pm
Main Street Reads, 115 S. Main St.
Join us on December 5th as we kick off a big holiday month with Christina Sinisi's Christmas on Ocracoke. You may remember Christina signing with us last year for her first novel, Christmas Confusion! Both will be available to be signed… a perfect Christmas gift! Reeling from the upheaval of a failed marriage, Annie Hanahan is desperate for a new start—and when she inherits a cottage on Ocracoke Island, she may finally get it. Without a second thought, she packs…Find out more »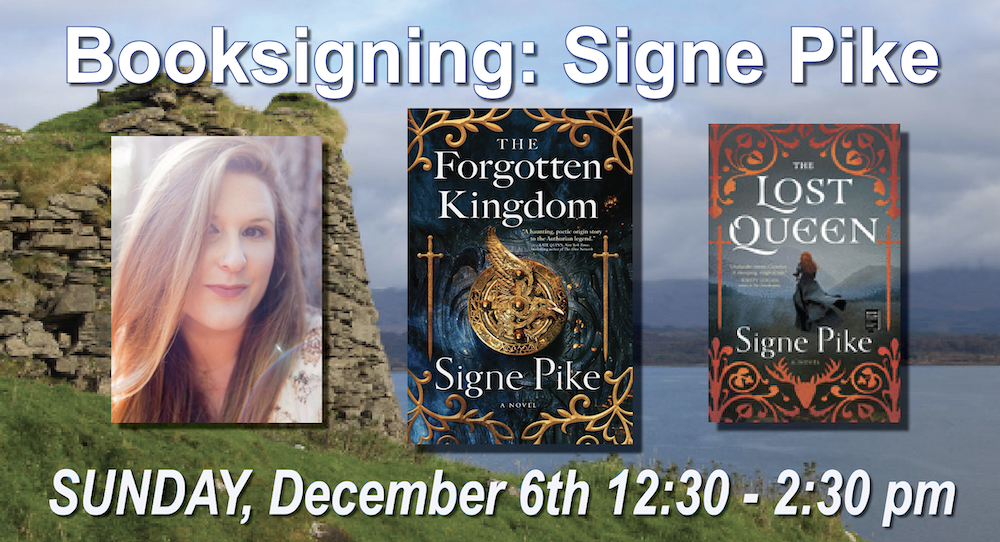 December 6 @ 12:30 pm – 2:30 pm
Main Street Reads, 115 S. Main St.
We super excited to have the amazing Signe Pike grace Main Street Reads on Sunday, December 6th for a special event and book signing. Her best-selling books have been making waves. The Forgotten Kingdom is the second in a trilogy; we'll also have the first in the trilogy, The Lost Queen, on hand to be personally signed. Refreshments will be served, including a special brew of spiced cider to set the mood. Let us know if you plan to attend…Find out more »
This Month's Featured Reads: Click on a Book to Learn More!
You can also view the full list of favorite November picks at our online shop HERE. Enjoy browsing online, or call 843-875-5171 to pick up your choices at the store.