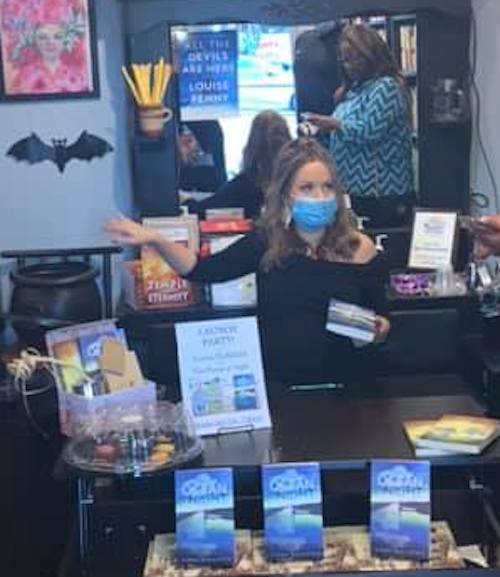 First, a big shout-out to author Lorna Hollifield for her successful book launch party Friday night at Main Street Reads, and to Grady Hendrix for joining our Pulpwood Queens book club via Zoom on Thursday night. What delightful discussions ensued with both authors and it's been wonderful to see folks communing safely in the store again. Thank you, thank you to all those who attended these special events live and online – We appreciate you!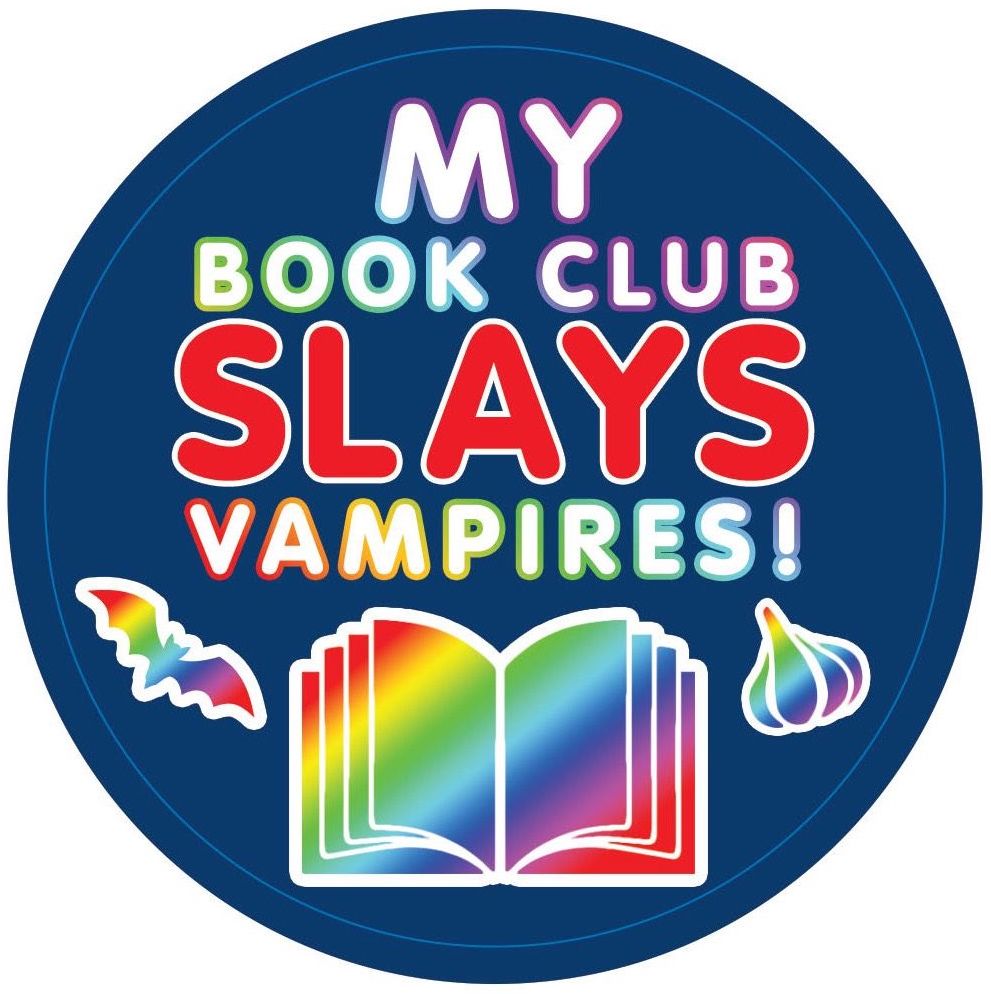 As always, we've kept a few signed copies of Lorna's books on hand for those who missed the party, and we still have book plates (and great vampire club stickers) for those Southern Book Club's Guide to Slaying Vampire fans!
And now, onto the upcoming event lineup and what we're loving in the store right now!
Did You Grab Your Diagon Alley Free Print?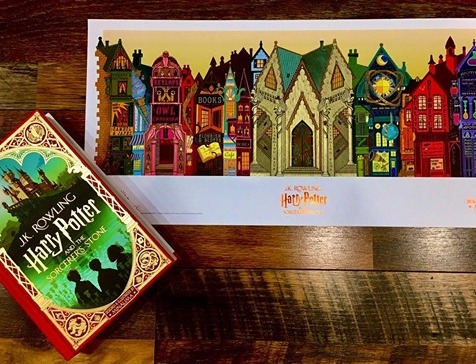 We still have beautiful free, frameable prints that we're offering free with a purchase of the beautiful new Harry Potter Mina Lima edition (see the video in our last post for more on the stunning book). If this is on your list, please grab yours soon to nab the print with purchase gift while supplies last!
Spectacular Star Wars Collectors Book
You know we don't do this often, but once in a while a vintage or antique book comes our way that we at least long to look at for a while before it finds its rightful home. In this case, a customer brought us this outrageously beautiful oversized book, full color throughout and chock full of stunning images and fascinating facts.
Bonus: It's being offered with a still-in-the-box Zam Wesell action figure, along with a colorful (and useful!) Star Wars shopping tote. Take a look at this rare item on the ebay listing we set up at https://www.ebay.com/itm/324347147094 – and if you'd prefer to acquire this item for yourself or a special someone directly from the store, contact Shari at 843-875-5171 to make arrangements to view in person!
Vote for Main Street Reads!
We hope you'll give us a nod in the new Summerville Journal-Scene reader awards. Visit http://journalscene.secondstreetapp.com/ReadersChoice_2020/ or click on the image below.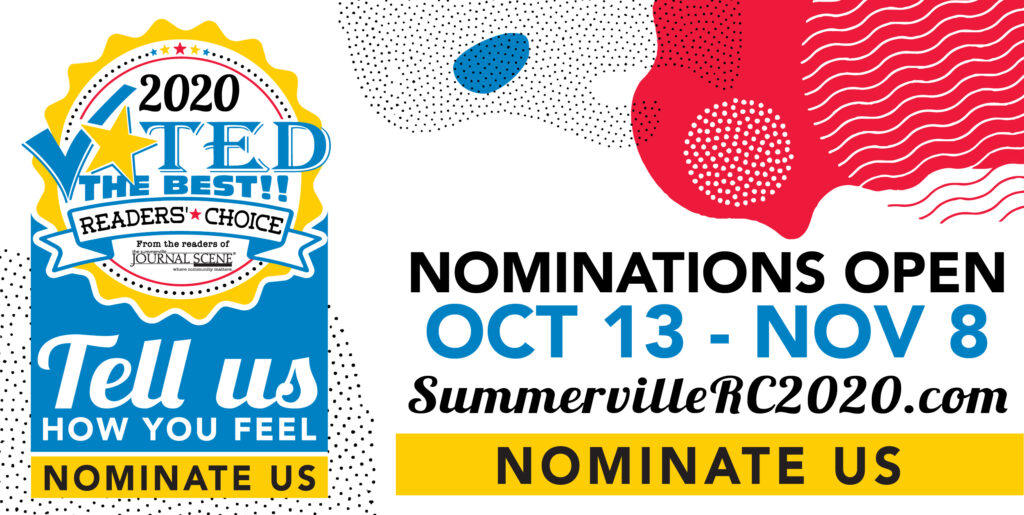 Last Week for Spooky Specials
All week long we're offering 50% off Halloween books and 10% off Harry Potter titles, and make sure to wear your costumes on Halloween Saturday for free treats (if you say the magic "Trick or Treat" words!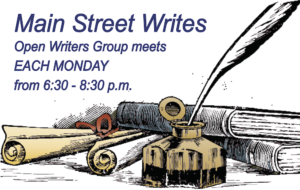 October 26 @ 6:30 pm – 8:00 pm
Main Street Reads, 115 S. Main St.
Come on out any/every Monday at 6:30 p.m. and bring a few pages with you to share with fellow scribes, or just listen in and learn! Anyone wanting to join in via Zoom instead, use the following credentials: Find out more »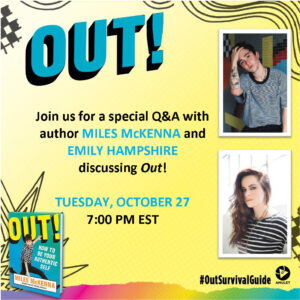 October 27 @ 7:00 pm – 8:00 pm
A great Reader Meet Writer event on Tuesday evening – we look forward to seeing you all on Zoom!
Join activist and actor Miles McKenna in conversation with actor Emily Hampshire, (Stevie Budd on Schitt's Creek) to discuss Miles's new book, Out!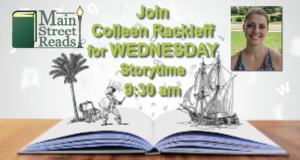 October 28 @ 9:30 am – 10:00 am
Main Street Reads, 115 S. Main St.
Join us every WEDNESDAY morning at 9:30 a.m. for "Stories on the Square, our outdoor storytime with reading by Colleen Rackleff – kids of all ages welcome! Treats served and student discounts to ALL attendees! Find out more »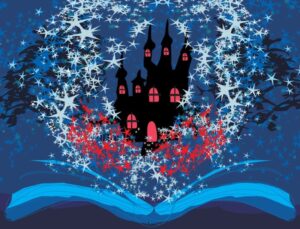 October 31 @ 10:00 am – 6:00 pm
Main Street Reads, 115 S. Main St.
Wear your costume Saturday and we'll have free treats for trick or treaters… we also still have 50% off Halloween titles available, most for under $5 – a great alternative to that sugar overdose. Enjoy our spooktacular decorations, sales on Harry Potter titles and more!
Find out more »
November SNEAK PEEK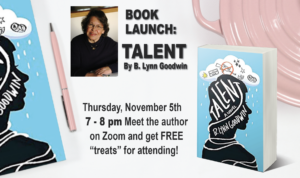 November 5 @ 7:00 pm – 8:00 pm
Main Street Reads, 115 S. Main St.
Join us for a special virtual book launch party with author and WriterAdvice.com founder B. Lynn Goodwin. Her new YA novel, TALENT, releases November 1 and on November 5th she'll join us from sunny California to talk about her work! Find out more »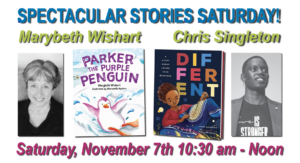 November 7 @ 10:30 am – 12:00 pm
Main Street Reads, 115 S. Main St.
On Saturday morning, November 7 (10:30 a.m. – Noon), we'll be hosting TWO great children's books and authors for a Spectacular Stories on the Square and Book Signing! Joining us will be Chris Singleton, inspirational speaker and author of Different and Marybeth Wishart, former teacher and author of Parker the Purple Penguin. Find out more »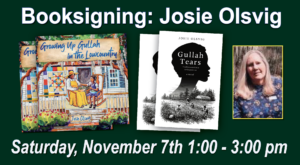 November 7 @ 1:00 pm – 3:00 pm
Main Street Reads 115 S. Main St.
We invite you to join us Saturday afternoon, November 7th, to celebrate the debut of a lowcountry historical novel and book signing with the author, Josie Olsvig! Find out more »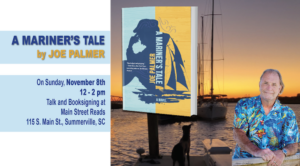 November 8 @ 12:00 pm – 2:00 pm
Main Street Reads, 115 S. Main St.
Join us Sunday, November 8th, from noon 'til 2 pm for a very special signing with Joe Palmer, hot on the heels of his feature appearance at the Pat Conroy Literary Festival in Beaufort on Saturday! We'll have refreshments and Joe will chat about his amazing novel. Copies will be on sale at the book club price (10% off) and can be personalized by the author for yourself or the perfect holiday gift. Here's what other amazing authors are saying…Find out more »
You can also view the full list of Indie Next Picks and "Now in Paperback" picks at our online shop HERE. Enjoy browsing online, or call 843-875-5171 to pick up your choices at the store.