There's nothing better on a rainy day to sit on the porch, listen to the rain, and enjoy delving into a new book. With plenty of rain this past week we've had plenty of time to do just that! I'm currently digging into Lisa Wingate's The Book of Lost Friends, on the heels of finishing an incredible read from Sue Monk Kidd, The Book of Longings. Just… wow! Highly recommended.
Also on my nightstand, Grady Hendrix's The Southern Guide to Slaying Vampires, and of course the latest brilliant addition to the Hunger Games collection, The Ballad of Songbirds and Snakes by Suzanne Collins. And, rounding out the pile, I'm nearly finished with the non-fiction title Joy at Work with Marie Condo. If you're still wallowing in the "now normal" it offers great solutions for organizing our office space, wherever that may be!
Visit our bookseller's picks for more recommendations, and share with us what you're loving at the moment! Have a few lines of praise for a certain book? Share that too and we'll feature it in-store on a shelf-talker!
Upcoming JULY Events
So, we're taking a two-week break from virtual events beginning this week, but we'll be back with some fantastic new conversations in July. Visit our EVENTS PAGE to see what's on the schedule beginning July 7th, including online events (free to all) with New York Times bestselling authors Marian Keyes and Silas House!
Summer Book Lists: Find Your Reads
Our newest lists include books about race and racism, the new top picks for June 2020, June 2020 top picks available in paperback, and Pride Month picks. Have an idea for a book list you'd like to see? Email mainstreetreads@gmail.com (We'll even name the list after you!)
Click on each image below to see the entire list and order yours from our online bookshop, or stop by the store – every title in the lists is in stock or on order!




Adopt a Shelf and Honor a DAD
Father's Day is just around the corner… let us help you pick out a book for dad/grandad, or gift them membership in the Believe in Your Shelf Club!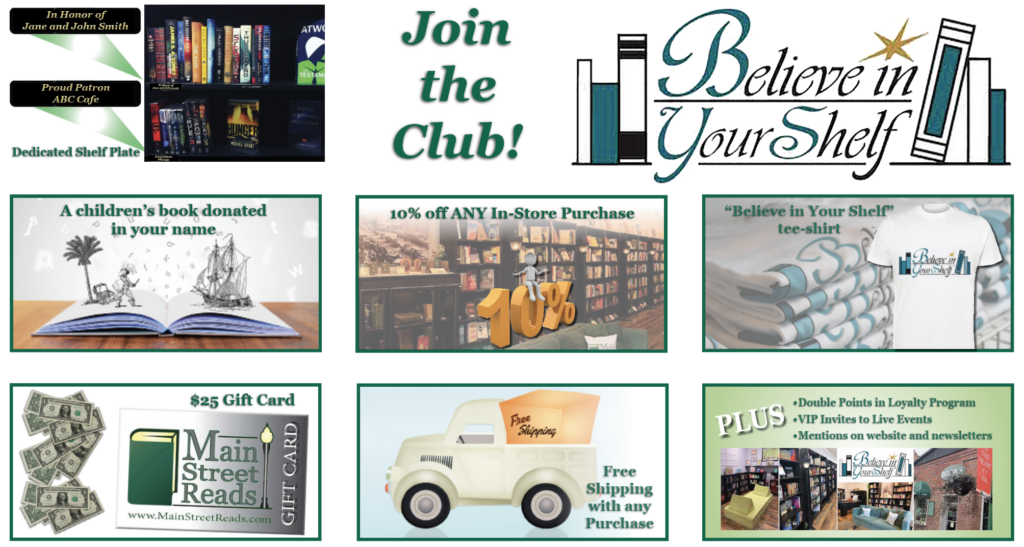 Keep Calm and Read On…