Here at Main Street Reads, we're taking a quick break before fall sets in – so come on out today and grab your weekend reads – we'll be closed on Sunday and on Labor Day, Monday (no writers group on Monday nite). But then we're in for an explosion of cool new events, including a chat with new American Fiction winner Carol Van Den Hende, a local author LIVE book signing, AND the 4th Annual Lowcountry Book Club Conference – Scroll down to learn more!
It's also back to school week for many of our area students and teachers. As we celebrate Labor Day we certainly celebrate YOU. Sincere wishes for a safe and healthy school year…
Cool Comic Creator!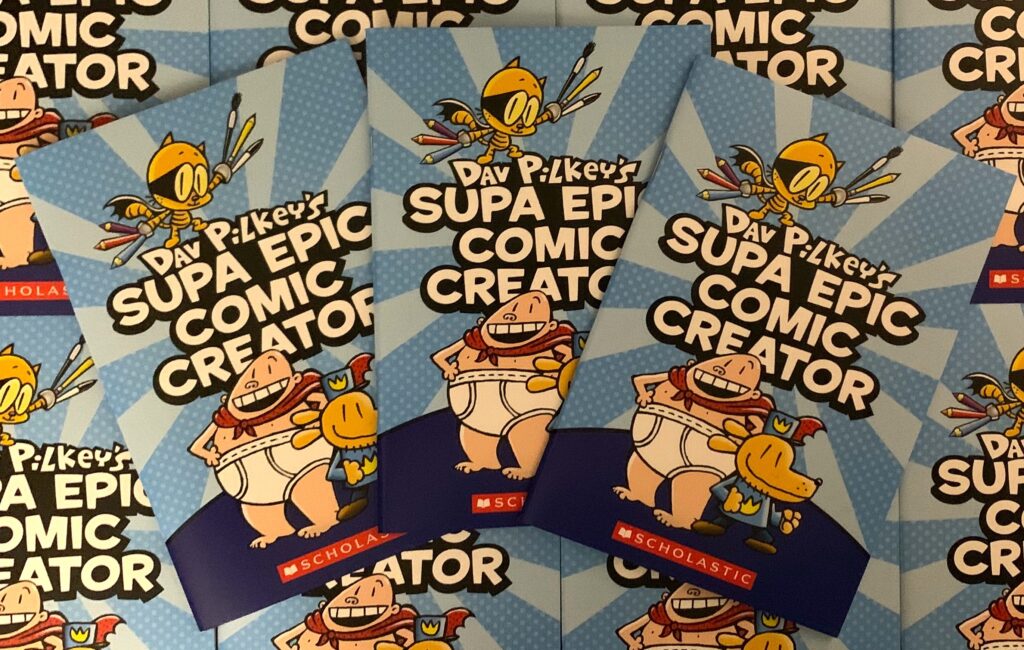 While you're here, make sure you grab a FREE copy of Dav Pilkey's "Supa Epic Comic Creator" – a free book with room to draw, lessons on how to draw some of his famous characters, and lots of stickers to dress up your work! We have a couple dozen left – grab yours for the kids! Prefer to download some of Dav Pilkey's fun resources? Visit https://kids.scholastic.com/kids/books/dav-pilkey-at-home/ for downloads and videos from Dav and Scholastic.
This Month's Hot Picks!
Don't forget to get a look at our September picks. We have them front and center in the store, too. Click on any of the books in our interactive slide to learn more!
Using our interactive slide below, you can click on any of the titles to learn more about September's Indie Next picks. Click on any of the September Reader Meet Writer or Book Club choices to be brought to each of those event pages.
You can also view the full list of Indie Next Picks and "Now in Paperback" picks at our online shop HERE. Enjoy browsing online, and feel free to call us at 843-875-5171 if you'd prefer to pick up your choice(s) at the store!
Home School Lessons Learned!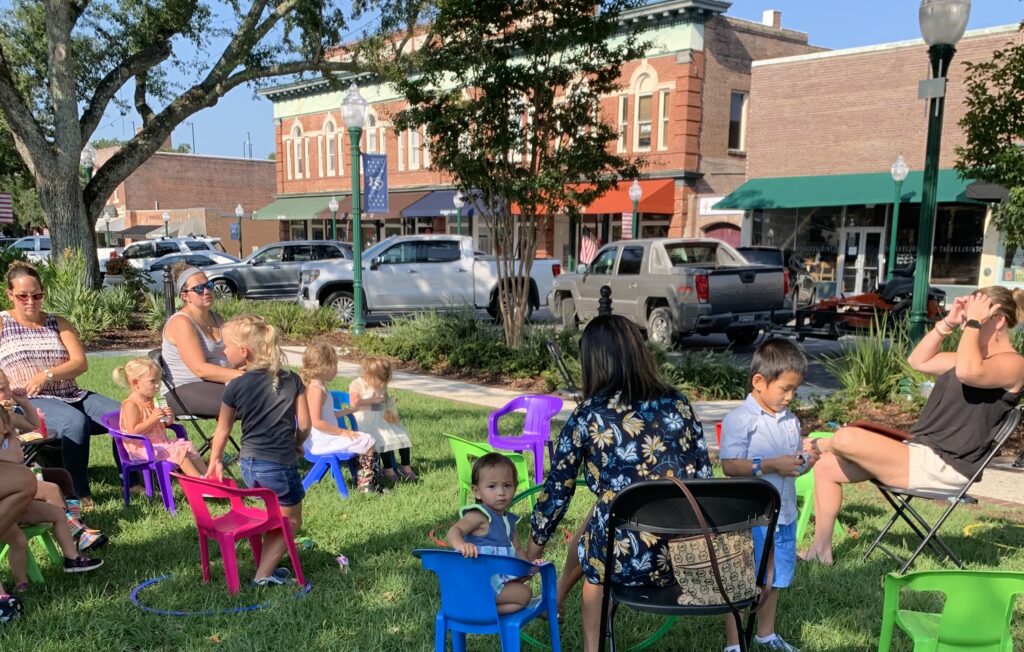 A warm thank you to local author and home-schooling mom Jewel Sweeney, who was kind enough to stop by Stories on the Square this past Wednesday and teach us more about the perks and perils of home schooling. On TUESDAY we'll have a special Back to School post dedicated to resources for parents helping students learning from home. Stay tuned!
Meanwhile, we have an ever-growing section of books with educational value for all ages, many 50% off (look for the gold stars!) If you need a particular title, we can order it in and get you a Back to School discount…
Mega Week of Book Events Ahead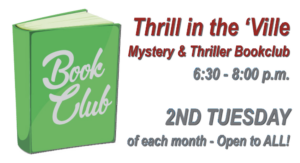 September 8 @ 6:30 pm – 8:00 pm
For Summerville lovers of mystery and thrillers, our Thrill in the 'Ville Book Club meets on the second Tuesday of each month, September 8th this month! All are welcome… Next up is a throwback thriller choice to celebrate the 25th anniversary of the nearly legendary The Silence of the Lambs by Thomas Harris, featuring the extraordinary Hannibal Lecter. The twenty-fifth anniversary edition of the #1 New York Times bestselling classic, now with a note by author Thomas Harris revealing his…Find out more »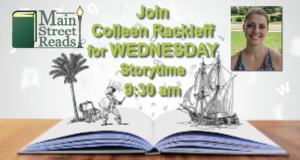 September 9 @ 9:30 am – 10:00 am
Main Street Reads, 115 S. Main St.
Join us every WEDNESDAY morning at 9:30 a.m. for "Stories on the Square, our outdoor storytime adventures with reading by Colleen Rackleff – kids of all ages welcome! Treats served and student discounts to ALL attendees! Colleen's Story Time at Main Street Reads has become one of our featured events and we're so excited to be back, doing the events outside to ensure proper social distancing. We have lots of chairs for younger listeners and plenty of juice boxes and…Find out more »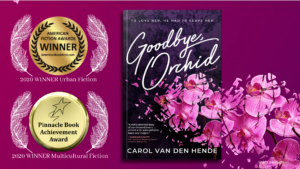 September 9 @ 9:00 pm – 10:00 pm
So here's an uber-cool event! Author and friend of Main Street Reads' Carol Van Den Hende's new book releases on October 1st and as an early winner of the American Fiction award, Goodbye Orchid is already predicted to be a bestseller. So, on Wednesday, September 9th we're going to pour a glass of wine and toast this important work LIVE on Zoom (simulcast on Facebook Live) with Carol, in conversation with fellow author and screenwriter Meredith Stack, whose current project…Find out more »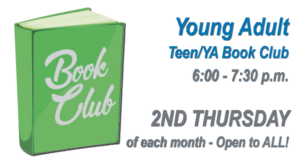 September 10 @ 6:00 pm – 7:30 pm
Main Street Reads, 115 S. Main St.
Our next YA Book Club meeting is happening on the 2nd Thursday, September 10th, 2020, at 6 p.m. Leading the discussion will be Hannah Rose Summers when we'll talk about The Knife of Never Letting Go by Patrick Ness, the first book in a trilogy that we're loving here at Main Street Reads! "Narrated with crack dramatic and comic timing. . . . The cliffhanger ending is as effective as a shot to the gut." — Booklist (starred review) Todd…Find out more »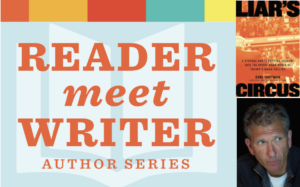 September 10 @ 7:00 pm – 8:00 pm
Join us Thu Sep 10th from 7:00 pm – 8:00 pm for an engaging chat with Carl Hoffman about Liar's Circus! Don't forget to email us at mainstreetreads@gmail.com for your event link and password to attend: Fear and Loathing on the Campaign Trail meets Strangers in Their Own Land in this work of daring and immersive contemporary anthropology: Carl Hoffman, who has written about the most dangerous and remote corners of the world, journeys deep inside Donald Trump's rallies, seeking…Find out more »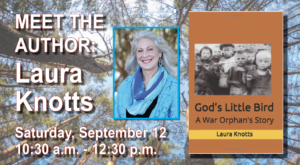 September 12 @ 10:30 am – 12:30 pm
Main Street Reads, 115 S. Main St.
We're thrilled to welcome local author Laura Knotts on Saturday, September 12, 2020, discussing her book God's Little Bird: A War Orphan's Story. 75 years ago, hundreds of thousands of Baltic citizens were caught in the bloody crossfire of the Soviets and Nazis and forced to flee their homelands. Lithuanian citizens had suffered brutal persecution during earlier Soviet and German occupations, and by the end of the second Soviet Occupation, only 1 million Lithuanians remained out of a population of…Find out more »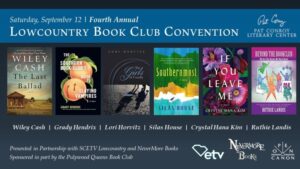 September 12 @ 10:30 am – 4:30 pm
Technical College of the Lowcountry (partial) The nonprofit Pat Conroy Literary Center will host the 4th annual Lowcountry Book Club Convention as a live-streamed event on Saturday, September 12—featuring New York Times best-selling novelists Grady Hendrix (The Southern Book Club's Guide to Slaying Vampires) and Wiley Cash (The Last Ballad); actress, counselor, and author Ruthie Landis (Beyond the Book Club); and a trio of authors selected by Wiley Cash's Open Canon Book Club: Lori Horvitz (The Girls of Unusually), Silas…Find out more »