Happy Saturday, Summerville. Well, it's "official" — beginning Monday at 5 pm you will not be allowed inside Main Street Reads to browse, not even one at a time. But you CAN still pick up orders curbside or have them delivered, and we have more details on that below, including how to virtually browse our shelves and how to place orders online or by phone.
But FIRST – a special announcement about a very special event!
Meet Horrorstor Author and Okra Pick Honoree Grady Hendrix!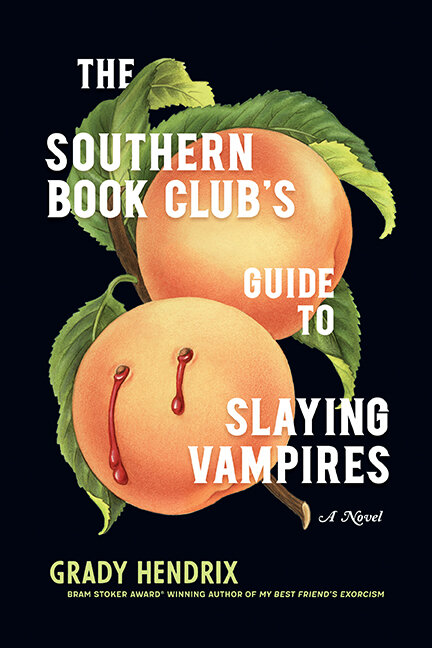 Company's coming! We're bringing brilliant authors right into to your living room (but no need to clean!) The Southern Independent Booksellers Alliance have come together to produce a series of events for readers featuring Okra Pick authors, and you can meet the first author in the Okra Pick series this Tuesday – the remarkable Grady Hendrix.
You may have read Grady's earlier works: We Sold Our Souls, My Best Friend's Exorcism and Horrorstor. Grady will be talking with us about his newest book The Southern Book Club's Guide to Slaying Vampires and answering your questions LIVE via Zoom. Grady is one of many authors we'll be bringing to your living room in the coming weeks, and we're excited to provide this free to our readers, and attend ourselves!
"Grady Hendrix has cemented his place as a literary luminary…cancel your plans and lock your doors, you won't be able to stop reading this one until the very end."

— Sarah Gailey, author of Magic for Liars
Here are the details you need:
Date: Tuesday, April 7, 2020
Time: 3:00 PM EDT
RSVP: mainstreetreads@gmail.com
Attendance is limited and you MUST RSVP by 9 a.m. Monday, April 6th to secure your spot (we are one of several bookstores participating and we need to provide your names to make sure you're included).
If you elect to attend, we will email you on Tuesday morning with the link and password to attend this special virtual event, plus the link to purchase Grady's books. And, here's a sneak peek at more events to come:
Reader Meet Writer, Okra Pick Series
April 16 The Coyotes of Carthage / Stephen Wright
April 21 Blue Marlin / Lee Smith
April 28 Feels Like Falling / Kristy Woodson Harvey
May 5 Before She Was Helen / Caroline B. Cooney
May 20 The Prettiest Star / Carter Sickels
May 21 A Taste of Sage / Yaffa Santos
Reader Meet Writer, Southern Edition
May 6 Native / Kaitlin Curtice
May 12 Hello Summer / Mary Kay Andrews
Enjoy This Gift from Charleston's Poet Laureate Marcus Amaker
Marcus will be here this July (live we hope!) with his newest book. For a peek at Charleston's cool cat and his work, enjoy this video:
Here's How to Retrieve Your Books!
We continue to take orders by phone, email, Facebook, Instagram, etc. Please include a phone number so we can confirm your order.
When picking up your books, please call in advance or when you arrive outside (843-875-5171) so we can bag your purchase and receipt and leave it outside the door (we'll have a stool placed so your bag isn't left on the ground).
If you need your books delivered, we can make arrangements.
If you're not sure what you want, you can browse our in-stock list HERE, or browse our list recommendations (or any book) HERE. Or simply call – we're happy to prescribe an anecdote for stir crazy!
Online Ordering continues at our ONLINE BOOKSHOP. And thank you so much to all those who've already shopped here – it's easy and convenient for you AND us!
Sounding Off: #CovidCrazy
It's our responsibility to serve the needs and be considerate of the health of our community. We'll miss seeing you at the store temporarily, but staying at home is the smart play, period. True, many cities and states have excepted bookstores as essential (what with schools and libraries closed) but not SC, so we're giving you options (see above!). Browsing isn't essential to still procure an essential book. Our shelves aren't going anywhere; there'll be plenty of opportunities to browse and commune when this crisis is behind us.
That said, it was still interesting, when seeing bookstores and craft stores listed in the new required closings in Governor McMasters' press conference, that those "essential" businesses that could remain open included (and I quote): "…firearm retailers…are not included in this order."
With hunting season over since January 1st, and us not supposed to be going out (and presumably that includes us not going out and um, shooting at stuff)…firearm retailers? As John Oliver would say, "Really? REALLY?"
Until we see you at Tuesday's virtual event, please continue to take the very best care of you and yours; appreciate the work our first responders and healthcare workers are doing for us all, often at great risk to themselves; and reach out if we can help. Keep calm and read on!