Read to lead – it's really that simple. And it's what makes us simply love Summerville, because so many of you read and lead in so many amazing ways. With holiday shopping we've had the privilege to meet record new numbers of readers and to be impressed by you! You're first responders, moms, dads, grandparents, nurses, students, book club members, civil servants, store owners, essential workers, and naturally, you're all great readers. More importantly, you're leading, and leading by example, in our amazing community. We're bursting with pride and gratitude to know you all!
Read on for lots of upcoming events and fun in the coming weeks!
Something You Want, Something You Need, Something to Read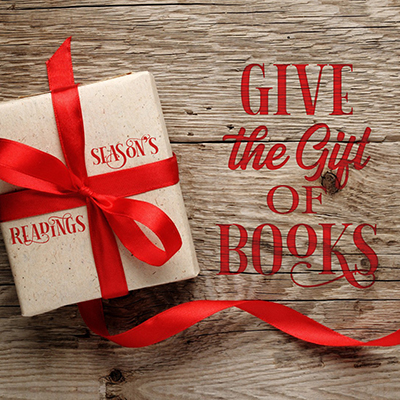 Happily, downtown Summerville offers something for everyone this holiday season; shopping local makes perfect sense! On the book front, we still have thousands of in-stock titles and the ability to get thousands more in for your ordering preferences, IF you get those orders in by Monday! After that day, we'll be in "hope and pray" mode unless you order using Priority Mail from our ONLINE SHOP, and that buys you a few extra days (currently guaranteeing priority delivery before Christmas if ordered by December 16th).
Five Helpful Shopping Hints: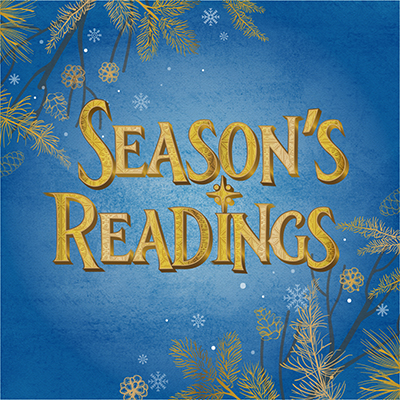 Our in-store, in-stock inventory list is HERE. Call to reserve your titles and we'll hold them for you and replace them as quickly as possible when reserved.
We offer FREE gift-wrapping on any in-store purchase, just ask!
Gift cards are the perfect option if you're not sure what your favorite reader wants to read next.
From NOW until the close of business on Christmas Eve, we'll give you a free mini journal with any gift card purchase, a perfect "wrap" for your gift card, or a thoughtful stocking stuffer.
We have a number of "non-book" gift items to complement your book gift, including book-themed socks, matchbook sets, clever art prints, tote bags, ornaments, spices, Lovepop cards and book-themed masks.
This Month's Featured Reads:
Click on a Book to Learn More!
You can also view the full list of favorite December picks at our online shop HERE. Enjoy browsing online, or call 843-875-5171 to pick up your choices at the store.
Join Our VIP Club!
Want an extra-special gift that lasts long past the holidays? Our VIP Believe in Your Shelf Club lets you name a shelf for your favorite reader(s), plus offers up discounts, free shipping, extra gifts, a $50 gift card and more! CLICK HERE or on the image below to learn more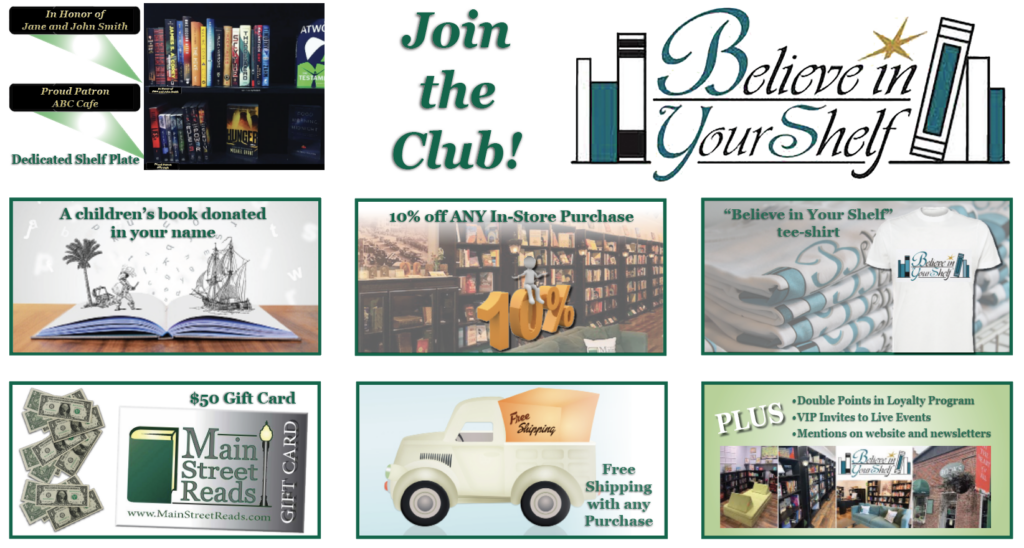 Audiobook Gift Memberships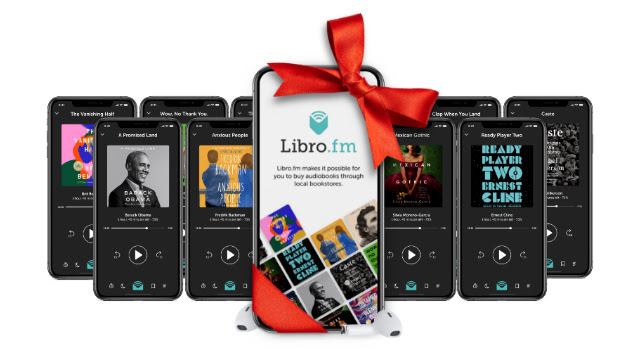 This holiday season, Main Street Reads is offering audiobook gift memberships through Libro.fm! You pick the membership (1, 3, 6, or 12 months/credits), and your gift recipients get to choose their own audiobooks. Giving an audiobook membership is quick and easy, which means you can spend less time shopping and more time enjoying your favorite holiday activities!
BONUS: When you buy a 12-month audiobook gift membership through Main Street Reads , we'll get half of the retail price on those sales—that helps keep the local literary lights on!
Up Next at Main Street Reads!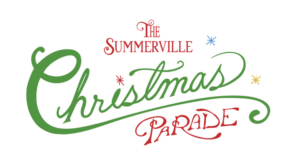 December 13 @ 2:00 pm – 4:00 pm
Main Street Reads, 115 S. Main St.
Sunday December 13th (rain date December 20th) will be the annual Christmas parade in historic downtown Summerville! Join us for the festivities and free treats and perhaps a surprise or two… We will have a LIMITED number of seats outside the store, we encourage you to arrive early! The Summerville Christmas Parade is designed to promote positivity throughout the Town of Summerville while capturing the "spirit of the Christmas holiday." The parade is a family-friendly, non-political event that aims to…Find out more »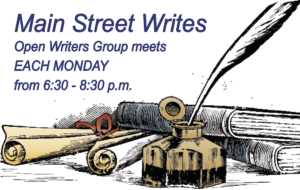 December 14 @ 6:30 pm – 8:00 pm
Main Street Reads, 115 S. Main St.
NOTE: WE WILL MEET VIRTUAL ONLY (see details below) through the end of the year: December 7, 14, 21 and 28th. For the inner writer in all of us, our regular Monday evening writers group. To join, use the following credentials: https://us02web.zoom.us/j/83115591753?pwd=bGwyNlJITDZvNUcxdU9kckNDSE1Zdz09 Find out more »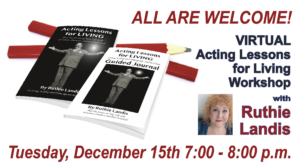 December 15 @ 7:00 pm – 8:00 pm
Main Street Reads, 115 S. Main St.
Imagine that your life is a hit play, one that you produce and direct, a show where you get to pick all the parts, from your leading role to the bit players. You get to choose the sets, the lighting, the costumes, and even who gets a front-row seat, right up to the final curtain call. In fact, you don't need to imagine it because your life is exactly that: a long-running adventure created for your life's stage by…Find out more »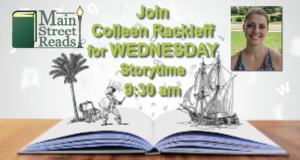 December 16 @ 9:30 am – 10:00 am
Main Street Reads, 115 S. Main St.
Join us for the LAST storytime of 2020 — After this week's event we'll resume on Wednesday, January 6th, 2021! WEDNESDAY morning at 9:30 a.m. "Stories on the Square is our outdoor storytime adventure with reading by Colleen Rackleff – kids of all ages welcome! Treats served and student discounts to ALL attendees! Colleen's Storytime at Main Street Reads has become one of our featured events, held outside to ensure proper social distancing. We have lots of chairs for younger…Find out more »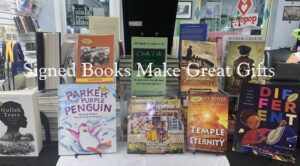 December 17 @ 6:00 pm – 8:30 pm
Main Street Reads, 115 S. Main St.
On the third Thursday of each month, Historic Downtown Summerville transforms into a special marketplace featuring local entertainment, craft vendors and artisans, to complement the extended hours of eclectic shops, boutiques and restaurants. Enjoy partying out on the square, sales and treats at Main Street Reads, and singer/ songwriter/guitarist Mike Kaltofen keeping it all festive as we enjoy our downtown community and have a little pre-Christmas merriment. Hint: Finish up that holiday shopping, and maybe grab a signed book from…Find out more »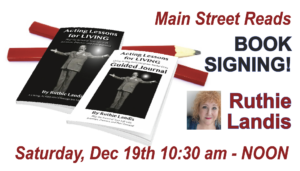 December 19 @ 10:30 am – 12:00 pm
Main Street Reads, 115 S. Main St.
On Saturday, December 19th, Ruthie will be here LIVE to answer questions and sign her books, including Acting Lessons for Living, the new companion Guided Journal, and her Beyond the Bookclub! Perfect for last-minute holiday gift-giving. Refreshments will be served. Find out more »