Capping off a busy week, we were delighted to host a booksigning for local author Laura Knotts (pictured above) and her wonderful book, God's Little Bird. A busy day at the store, and while Hannah Rose and Emma held down the fort, Shari headed down to Beaufort for the 4th Annual Lowcountry Bookclub Convention, enjoying talks from major authors Ruthie Landis, Wiley Cash, and Grady Hendrix.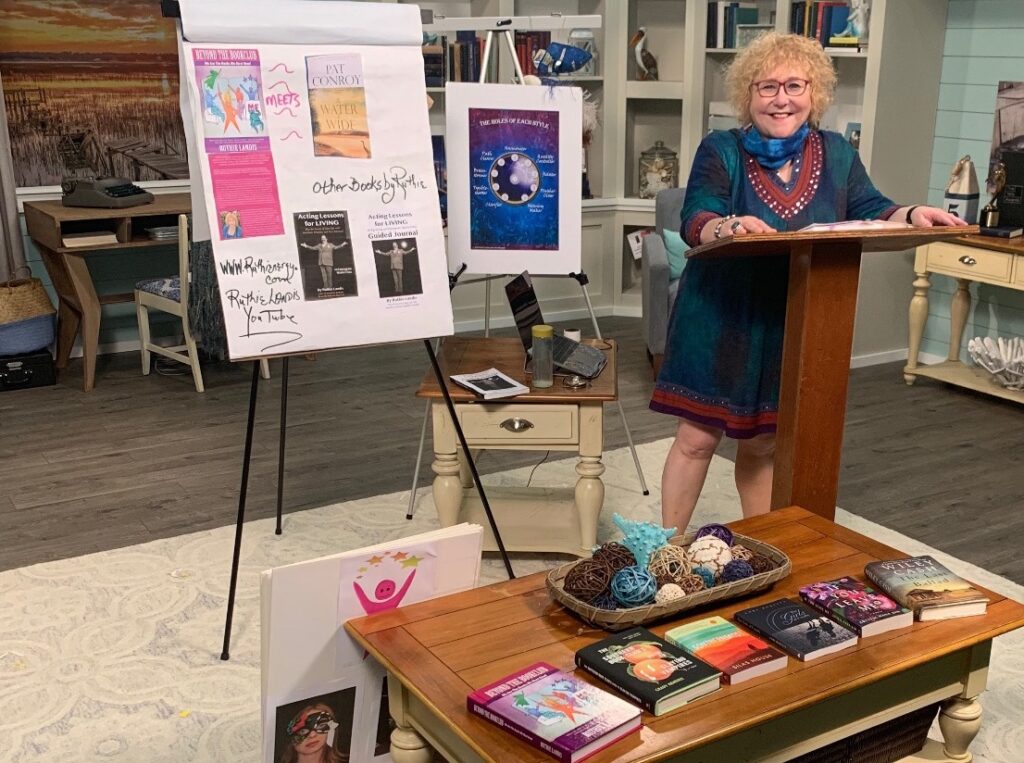 2020 Sweet Tea Festival Reimagined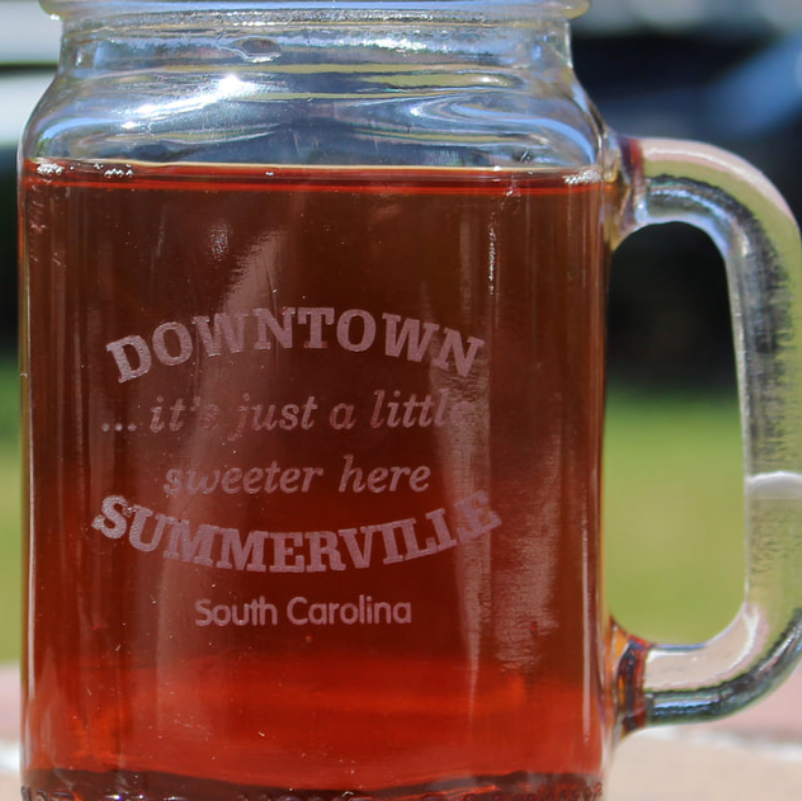 What a week ahead as we gear up for "The Sweetest Week Ever" in Summerville, happening Monday through Friday in downtown Summerville. In a nutshell, the 2020 Annual Sweet Tea Festival has been reimagined as the "Sweetest Week Ever!" and you're invited, courtesy of Summerville Dream and all the downtown merchants that make our town sweeter all the time…
The Sweetest Week Ever allows participants to adhere to best health practices and social distancing. Celebrate Summerville's art, culture, hospitality and all things that make it just a little sweeter here. Daily events and evening shows, shop specials, and more!
Check out the schedule below and come join the fun! Main Street Reads will be open later all week long, so stop by and say "hi" — we'll have giveaways Monday through Friday to help celebrate our Sweetest Week Ever and our "Kissing Booth" (Hershey's kisses only) will be up all week to keep things sweeter, too.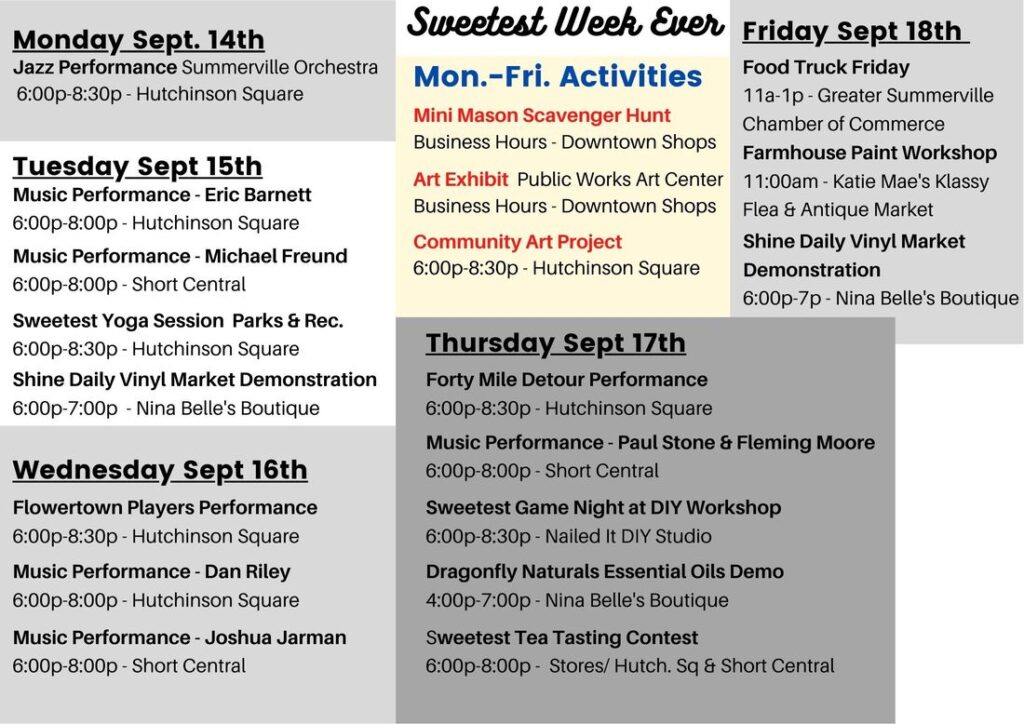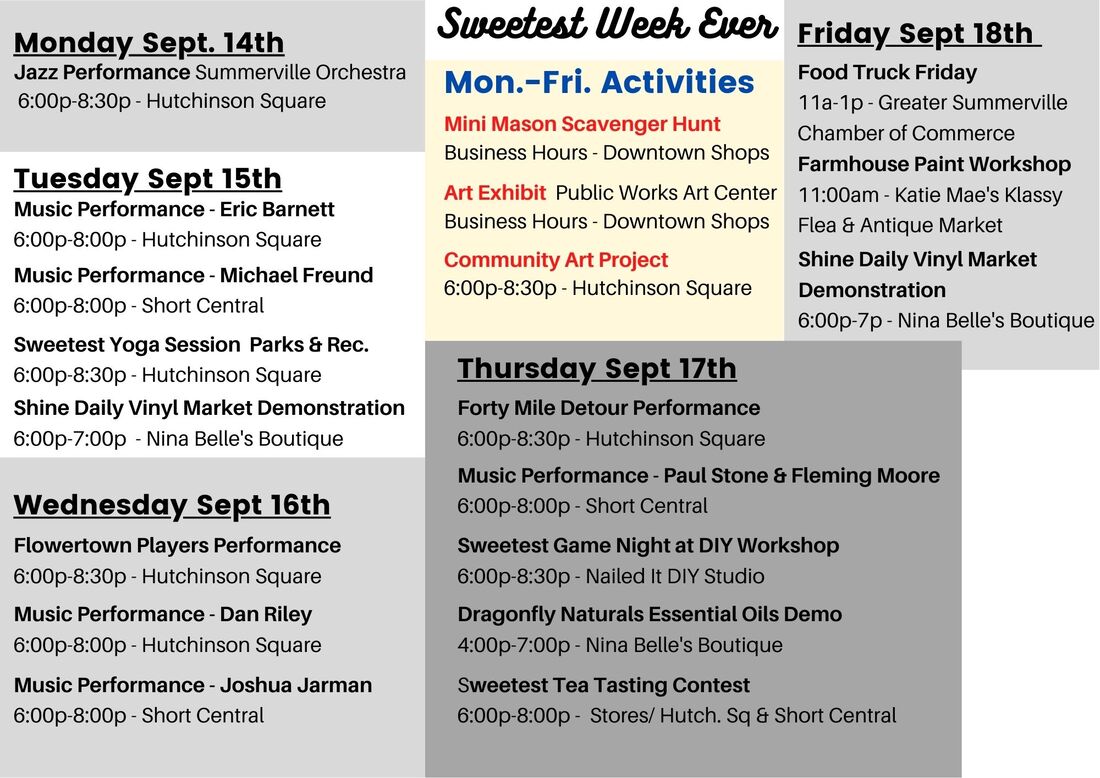 And, Here at Main Street Reads This Week: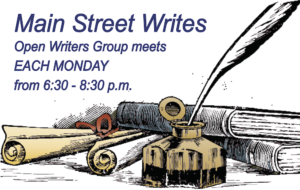 September 14 @ 6:30 pm – 8:00 pm
Main Street Reads, 115 S. Main St. OR via Zoom:
For the inner writer in all of us, our regular Monday evening writers group will meet in person and via Zoom for those preferring to join from home. See you soon — and Write ON!
You can join the Zoom Meeting with Meeting ID: 831 1559 1753 and Passcode: 29483 at this link:
https://us02web.zoom.us/j/83115591753?pwd=bGwyNlJITDZvNUcxdU9kckNDSE1Zdz09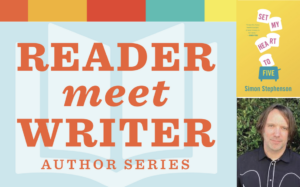 September 15 @ 3:00 pm – 4:00 pm
Join us for an enlightening conversation with Simon Stephenson about his new release, Set My Heart to Five. Email mainstreetreads@gmail.com for the event link and password to attend! For fans of Fredrik Backman and Gail Honeyman, this is a delightfully entertaining, deceptively poignant debut novel about a human-like bot named Jared, whose emotional awakening leads him on an unforgettable quest for connection, belonging and possibly even true love. Find out more »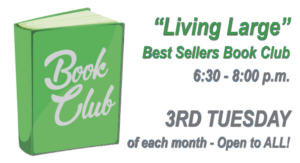 September 15 @ 6:30 pm – 8:00 pm
Main Street Reads, 115 S. Main St.
The Scent Keeper by Erica Bauermeister. is this month's selection and what an AMAZING BOOK! This Reese's Book Club pick presents a moving and evocative novel about childhood stories, families lost and found, and how a fragrance conjures memories capable of shaping the course of our lives. Join us LIVE in the store OR via Zoom here:
https://us02web.zoom.us/j/84550929622?pwd=dm5TNzU5cEJzQUZ3S2t2dWdUdFJGQT09 using Meeting ID: 845 5092 9622
Passcode: 855892rf6t Find out more »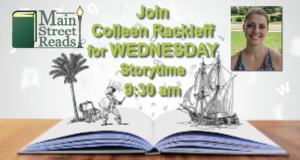 September 16 @ 9:30 am – 10:00 am
Hutchinson Square (or in the store if weather doesn't cooperate)
Join us every WEDNESDAY morning at 9:30 a.m. for "Stories on the Square," our outdoor storytime adventures with reading by Colleen Rackleff – kids of all ages welcome! Treats served and student discounts to ALL attendees! We have lots of chairs for young listeners and plenty of free juice boxes and fruit snacks…Find out more »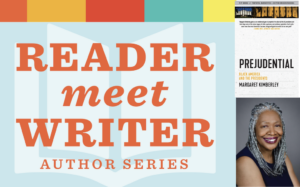 September 17 @ 7:00 pm – 8:00 pm
Meet author Margaret Kimberley with a frank discussion about her work, Prejudential: Black America and the Presidents. Email us at mainstreetreads@gmail.com for your link and password! Find out more »
This Month's Hot Picks!
Don't forget to get a look at our September picks. We have them front and center in the store, too. Click on any of the books in our interactive slide to learn more!
You can also view the full list of Indie Next Picks and "Now in Paperback" picks at our online shop HERE. Enjoy browsing online, and feel free to call us at 843-875-5171 if you'd prefer to pick up your choice(s) at the store!