Museum Art Show at Main Street Reads!
November 21, 2019 @ 5:30 pm

-

7:30 pm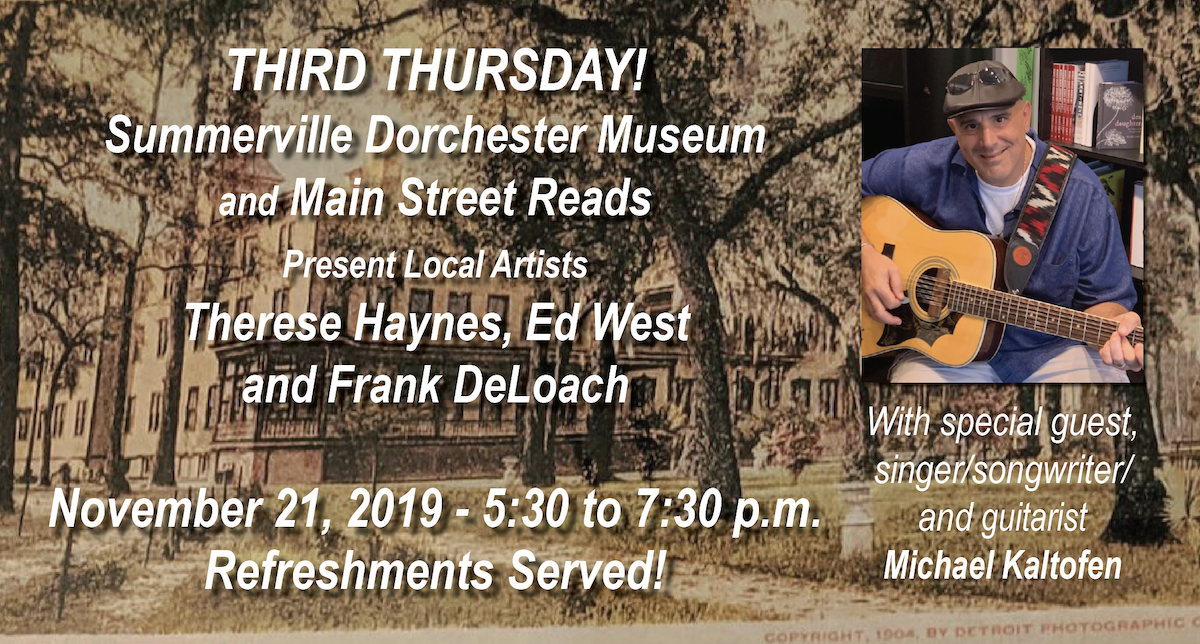 Our own Summerville Dorchester Museum is collaborating with Main Street Reads to offer a unique Third Thursday event this month, an art show featuring three local artists, and a talk about Summerville area history (will be especially interesting to all you newer Summervillians!)
Meet the Artists
Therese Haynes: Therese won her first art show in 2nd grade. She has sold paintings of beloved pets, cars, and landscapes for 25+yrs in KY and MI. She moved to Summerville in 2011 offering her talent to Dorchester Summerville Museum and Crossroads Church. She was commissioned to complete two historical murals for both Museums (St George). Dorchester Co Parks and Rec commissioned Ms. Haynes for 12 works of art for Rosebrock Parks 1.5 mile hiking trail and completed a large tribute to Saul Alexander arriving in Summerville, invited to display her complete collection by the Charleston Co Library for a Gallery Showing. She has competed Internationally for the Archdiocese of Michigan and has won juried competitions. She was last year's People's Choice Award and second place winner in Summerville Artist's Guild City Gallery competition in 2018. She is currently competing in this year's show thru Nov 30 at N Charleston Coliseum.
Dr. Ed West:
Dr. West is a knowledgeable and eloquent historian for Dorchester County as well as the town of Summerville. He is often a frequent speaker as part of the museum's series on local people and historical events.  He also consults on many of the exhibits and artifacts on display in our museum.
Ed West "EW" had a truly wonderful art teacher in high school and then suppressed his muse for fifty years.  He now enjoys developing paintings depictiing aspects of American history, particularly pertaining to Summerville. He has been influenced by N.C. Wyeth and Norman Rockwell and thinks of himself more as an illustrator than as an artist.
Frank DeLoach: In summer 2000, the Field Museum in Chicago unveiled the largest, best preserved and most complete T-rex ever found. Frank DeLoach was working in the Paleontology prep lab on specimens from Madagascar, but spent free time sketching the new exhibit. He was surrounded by large groups, who wanted to ask questions about the dinosaur. Museum admin transferred Frank from Paleontology to Education, where he was appointed "Artist-on-floor," a 6-week reassignment that lasted over three years. This was the beginning of a new occupation away from the sciences. Frank began painting in other locations, such as Millennium Park, Chicago Botanical Gardens and the Chicago Bears Soldiers Field. Frank and Andrea moved to Charleston and Frank continues to work in locations in the city and Angel Oak. Frank is presenting three small canvases of Angel Oak and the beautiful homes on the Battery. His paintings are in museums and private collections throughout the U.S., Asia, and Europe. Frank is not currently represented by any galleries or studios in the Low Country.
As always, we'll also be featuring the artistic guitar stylings of Summerville's own Michael Kaltofen, so come enjoy some art, books, music and local history with us! And yes, refreshments will be served…