Join us tonight for a fabulous Reader Meet Writer event featuring The Wife Upstairs! Then come on out Saturday morning for a live book signing of Still a Doctor with author Bernard Mansheim.
And next week we'll be hosting the book fair for the Pulpwood Queens National Bookclub conference! This special event will bring together over 60 brilliant authors for three phenomenal days of book chats. We're offering 10% off on any of the books and have author-signed bookplates for many of them. If you'd like to attend this paid virtual event January 14-17, (we'll be there!) learn more join the fun at www.thepulpwoodqueens.com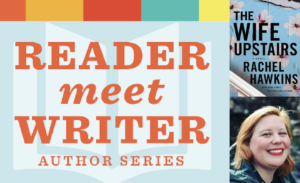 January 7 @ 7:00 pm – 8:00 pm
You don't need to be a scholar of Brontë to appreciate this "compulsive, irresistible retelling of Jane Eyre with a modern, noir twist" (Samantha Downing) perfect for fans of Jessica Knoll, B.A. Paris, and Bravo TV. "Eddie" Rochester is the handsome, charming widower living in a gated community of McMansions called Thornfield Estates; Jane is the new dog-walker from the wrong side of the tracks; and Mrs. Rochester is a self-made millionaire and creator of a Southern lifestyle company à…Find out more »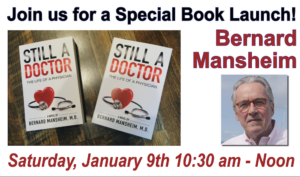 January 9 @ 10:30 am – 12:00 pm
Main Street Reads, 115 S. Main St.
Acclaimed author Dr. Bernard Mansheim will be at Main Street Reads Saturday, January 9th to celebrate the release of his third novel, Still a Doctor. Social distance rules will apply and safe treats will be served! Find out more »
Lots to choose from this month; view our January picks by clicking the image below or visit our online Bookshop page. Call the store to reserve an in-store pickup!