Pulpwood Queens Book Club at Main Street Reads
February 25 @ 6:30 pm

-

8:30 pm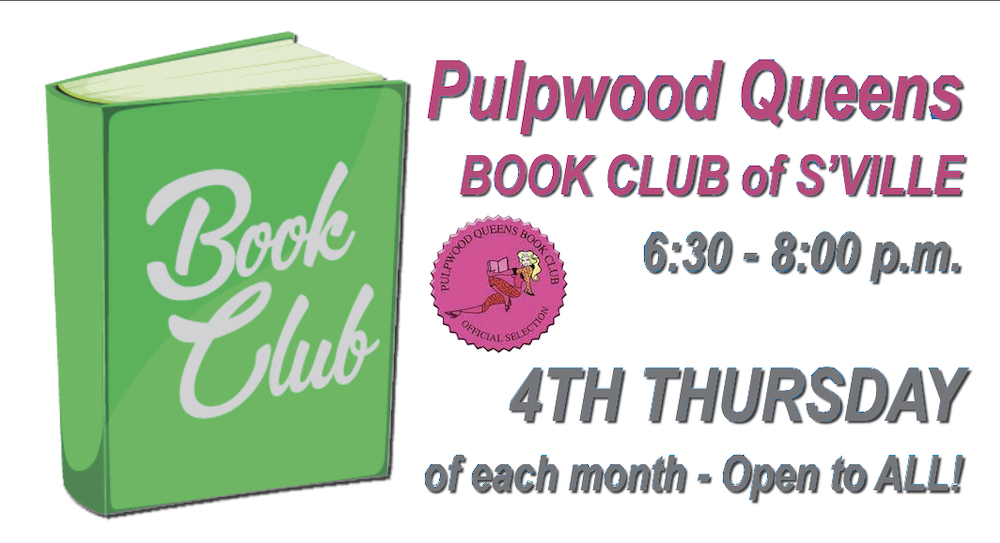 What a great turnout we had on Tuesday, January 28, 2020 for GRADLE BIRD by J.C. Sasser! Next UP – Novel Women by the Between Friends Book Club!
The PQ bookclub meets on the 4th Tuesday of each month at 6:30 p.m. In February that's February 25th. We're working to get the authors linked up for a video chat — Refreshments will be served!
The book is available at the book club discount price at Main Street Reads!
About Novel Women
When middle age hits – it hits hard. Marriages fall apart, children leave for college, and jobs disappear.
The six women of Novel Women stand at the crossroads in their lives when their beloved book club goes on hiatus for the summer: • Bri, the book club founder, faces down a beautiful woman who tries to seduce her husband as Bri struggles with her own midlife meltdown. • Staci falls in love on the rebound after her divorce – but is love enough to overcome grief. • Tess, devastated after her husband's sudden death, house/dog sits for a friend, falling in love with a handyman/ex-Ranger and a 100-pound golden retriever named Mac. • Charlotte after a painful divorce has sworn off romantic attachments of any kind. She basks in sex without intimacy…until romance finds her. • Ava, a successful businesswoman hangs on to her marriage and business, both of which are threatened by her husband's secrets. • Hanna overwhelmed and neglected by her workaholic husband, she endangers her marriage of 16 years by lusting after her daughter's handsome soccer coach. Through their summer of confusion and rediscovery, heartache and loss, these Novel Women manage to grow closer by the ever-enduring power of love and friendship.
Prefer to order the book online? Use our easy link! https://bookshop.org/shop/mainstreetreads
More Upcoming Discussion Days
March 24th – Book TBA at February meeting
April 28th – Book TBA at March meeting