Prince of Scribes: Booksigning
July 18, 2019 @ 5:00 pm

-

7:00 pm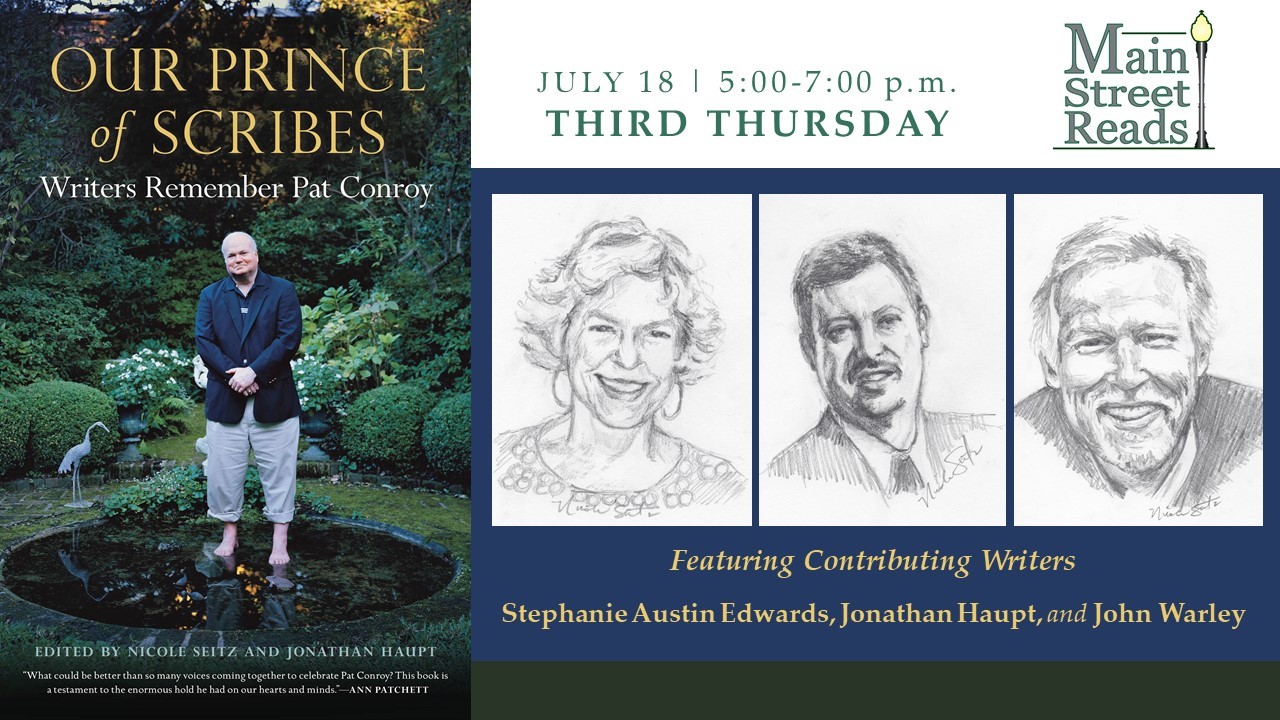 New York Times best-selling writer Pat Conroy (1945–2016) inspired a worldwide legion of devoted fans numbering in the millions, but none are more loyal to him and more committed to sustaining his literary legacy than the many writers he nurtured over the course of his 50-year writing life. In sharing their stories of Conroy, his fellow writers honor his memory and advance our shared understanding of his lasting impact on 20th- and 21st-century literary life in and well beyond the American South.
Featured writers for this discussion are co-editor Jonathan Haupt and novelists Stephanie Austin Edwards and John Warley. Each author in this collection shares a slightly different view of Conroy. Through their voices, a vibrant, multifaceted portrait of him comes to life and sheds new light on the writer and the man. Sales of Our Prince of Scribes support the educational mission of the nonprofit Conroy Center.
PRAISE FOR OUR PRINCE OF SCRIBES
"A moving tribute to the legacy of one of the South's brightest lights."—Garden & Gun's Talk of the South
"Our Prince of Scribes isn't just a collection of homages but also a delightful introduction to Conroy's vast and talented circle of talented friends."—Washington Post
"More than 60 writers–from Pulitzer Prize winners to Conroy relatives to Barbra Streisand–fill Our Prince of Scribes with personal stories about [Pat Conroy's] impact…. The result is a moving, entertaining read as genuine as the icon himself."—Charleston Magazine
"In these essays, you'll meet a man who was troubled, tormented, angry, scathing, outrageous, hilarious, tender, noble, brave, and generous beyond measure. But most of all, you'll meet a man who damn-well knew how to love. And thanks to the devoted efforts of co-editors Jonathan Haupt and Nicole Seitz, and the work of 67 very fine writers, his legion of fans will come to love Pat Conroy even more than they already do."—Lowcountry Weekly
ABOUT THE FEATURED WRITERS
Stephanie Austin Edwards, a former dancer and costumer, is a novelist, writing teacher, and author consultant. Her twenty-two-year career in theater began in San Diego and moved her to New York City. She worked on Broadway and in film and on television with such talents as Liza Minnelli, Michael Jackson, Lauren Bacall, Woody Allen, Martin Scorsese, Hal Prince, Stephen Sondheim, Bill Cosby, and Michael Bennett.
Later, she returned to her roots in the South Carolina lowcountry where she now facilitates writers' groups, teaches writing workshops, and volunteers at the Pat Conroy Literary Center. Her debut novel, What We Set in Motion, won a Best Submission Award at the Atlanta Writer's Club Conference.
Jonathan Haupt is the executive director of the Pat Conroy Literary Center, the founding director of the annual Pat Conroy Literary Festival, and the former director of the University of South Carolina Press. With novelist and artist Nicole Seitz, he is co-editor of the anthology Our Prince of Scribes: Writers Remember Pat Conroy, Haupt's articles, book reviews, and author interviews have appeared in the Charleston Post & Courier, Beaufort Lowcountry Weekly, Beaufort Lifestyle magazine, Pink magazine, Shrimp, Collards & Grits magazine, Fall Lines, and the Conroy Center's Porch Talk blog. He serves as an associate producer and consultant to the SCETV author interview program By the River, on the board of directors of the South Carolina Academy of Authors and the Friends of South Carolina Libraries, on the American Writers Museum affiliates steering committee, and on the South Carolina Humanities advisory committee.
John Warley, a native South Carolinian, is a graduate of The Citadel and the University of Virginia School of Law. Now a full-time writer, he divides his time between Beaufort, South Carolina, and San Miguel de Allende, Mexico. Warley is the author of the novels Bethesda's Child, The Moralist, The Moralist II, A Southern Girl, and The Home Guard. He is also the author of the nonfiction book Stand Forever, Yielding Never: The Citadel in the 21st Century and "The Citadel at War," a narrative history of the college etched into the granite walls of The Citadel War Memorial, which opened to the public in October 2017.
Featured authors' books will be on hand for signing!