Before we get to upcoming news and events – welcome new Summerville readers, and enjoy this video produced by VisitSummerville.com and our Miss Dorchester County (Joshyn Robinson) and Miss Dorchester County Teen (Muskaan Makkar). We were privileged to be Episode 1 of the series of Summerville videos being produced around town!
And now… on with the show!
August Events: Cool Off with Cool Books!
As promised, we have PLENTY for you to enjoy during the dog days of August. Visit our EVENTS CALENDAR and click on any of the links for more details. In a nutshell:
Main Street Writes: Our weekly writers group meets Mondays at 6:30 p.m. Some attend live (and socially distanced within the store) and others join in via Zoom. Five Mondays in August equals five nights we'll be sharing writing!
Wednesday Stories on the Square: Each Wednesday morning at 9:30 a.m., mom and ace storyteller Colleen Rackleff reads stories on the square. Our chairs for wee ones are separated by colorful hoola-hoops for social distancing. Individually wrapped fruit snacks and juice boxes are served free, and all young readers room purchases on Wednesdays earn a 10% discount, so stop in the shop after the readings!
Reader Meet Writer: We have SIX fabulous Reader Meet Writer events in August. Events take place on Tuesdays (afternoons) or Thursdays (7 pm). Each one treats you to a virtual meeting in real time with an amazing author and their newest work and offers Q&A at the end of each author talk.
Book Clubs Galore: We have FOUR book clubs scheduled to meet in August (again, you can join us in the store or via the link we send to join on Zoom). Our Living Large (bestsellers) club will be discussing Sue Monk Kidd's amazing new The Book of Longings. Our Thrill in the 'Ville thriller club will be talking about Harlan Coben's The Boy from the Woods. The YA Club will discuss Dear Martin by Nic Stone. And the Pulpwood Queens club will discuss the amazing Clover Blue by Eldonna Edwards. Any of these titles purchased in the store through the month of August come with a 10% book club discount!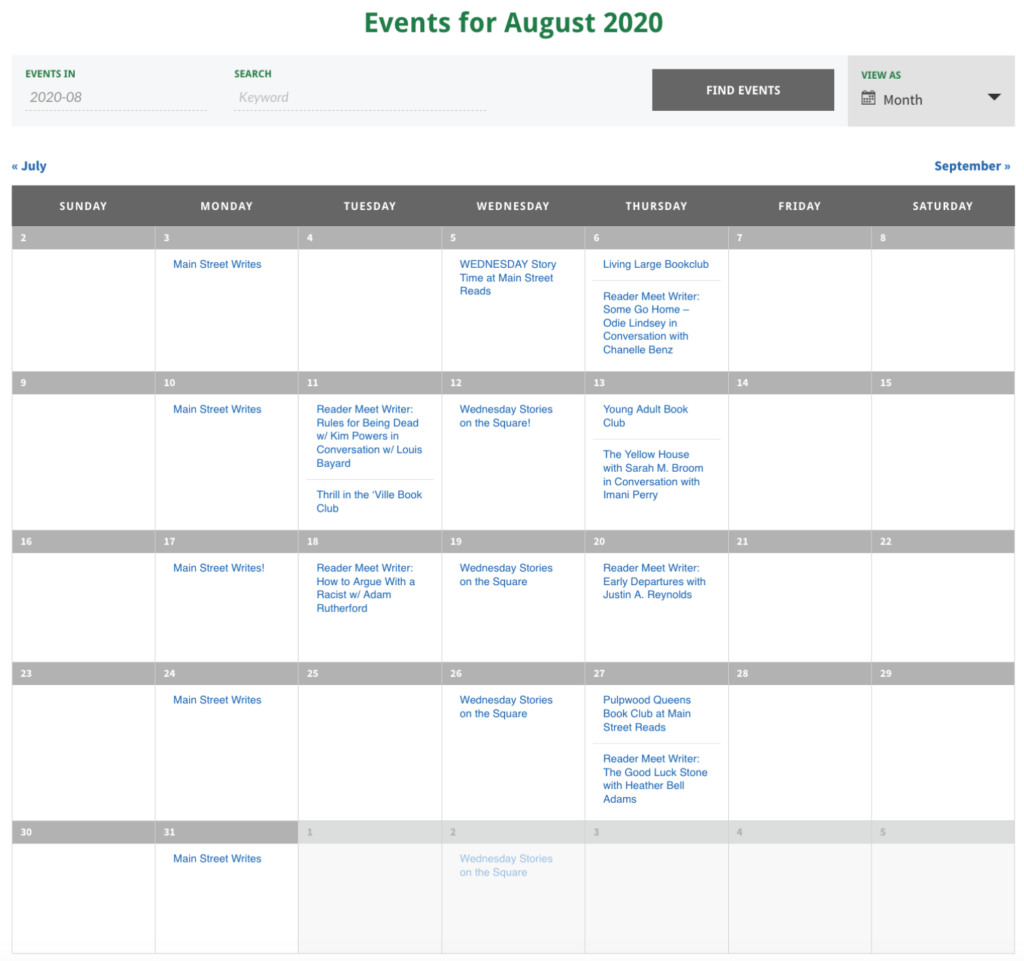 Reader Meet Writer TV!
Missed a prior Reader Meet Writer virtual event? Reader Meet Writer "TV" offers video recordings of many of our recent Reader Meet Writer events. Twenty-five videos have been posted so far. Below is the playlist of all the videos (look to the upper right of the video box to see the full list of videos. Included are interviews with Lisa Wingate, Marian Keyes, Mary Alice Monroe, Brad Metzer, Steven Wright and so many more!
Last Glance at July's Picks…
Here's a last look at our top picks for July – August's favorite picks will be unveiled on Sunday! Click on the image below for more details on each title – you can order there for home delivery or grab your books from the store: